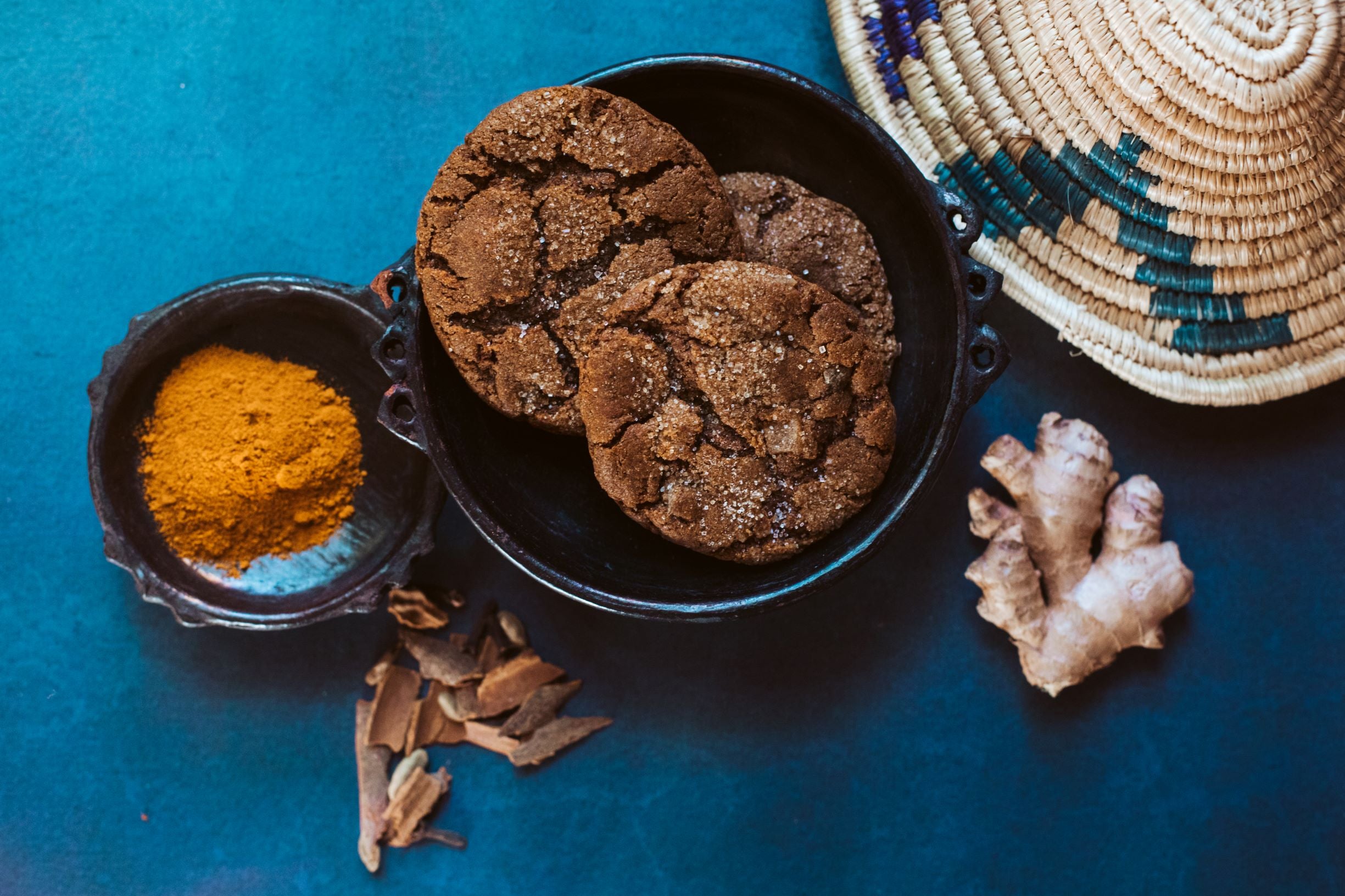 Berbere and Ginger Cookies (Made with Gluten Free Teff Flour)
Berbere and Ginger Cookies (Made with Gluten Free Teff Flour)
If you're one to enjoy a spiced cookie in autumn, oh do we have a recipe for you! This one, it's this one. Soft and chewy with a crackled, chili-sugar coated crust, we promise you, this 100% gluten free treat is the Berbere, Ird, & ginger-filled cookie of your dreams.
INGREDIENTS 
1 1/4 cup gluten free Ethiopian Teff flour 
1/4 cup sweet white rice flour 
1/2 cup tapioca starch flour
2 teaspoons baking soda
1 teaspoon cinnamon 
1 teaspoon clove (or allspice)
3 heaping teaspoons
 ground ginger 
1 1/2 teaspoon Ird (Turmeric)
1 tablespoon Berbere Chili  Pepper Blend

 
(add more for an extra kick)
3/4 cup finely chopped crystallized ginger
3/4 cup butter, room temperature
1 cup dark brown sugar
1/4 cup molasses
1 large egg
5 tablespoons Sugar mixed with 1-2 tsp Berbere for rolling
PREPARATION 
Finely chop the crystallized ginger. Gather all ingredients - you will need aa whisk, an electric hand mixer, and a wooden mixing spoon as well. 
STEPS
In a medium sized bowl, whisk together the first 9 ingredients until blended. Make sure there are no big clumps of baking soda or Berbere. Mix in the chopped crystallized ginger. 
Using an electric mixer (or wooden spoon if a mixer is not available), cream the room temperature butter and brown sugar in a large bowl until light and fluffy, 3-5 minutes with an electric mixer on medium-high speed, and 7-10 minutes if you are mixing by hand (It might take longer but that's ok! It is a workout)
Add the egg and molasses to the butter and brown sugar mixture and beat until fully blended. 
Pour in the dry ingredients, mix until just blended (do not over mix!)
Cover and refrigerate the dough for at least 1 hour.
Preheat the oven to 350 degrees Fahrenheit and lightly butter two baking sheets.
Form the refrigerated dough into balls (about two tablespoons per ball), and roll lightly in the sugar-Berbere mixture. Each baking sheet will fit 6 balls.
Bake cookies for about 12 minutes, until cracked on top. Yields about 24 cookies.
Let cool for 10-15 minutes before enjoying!