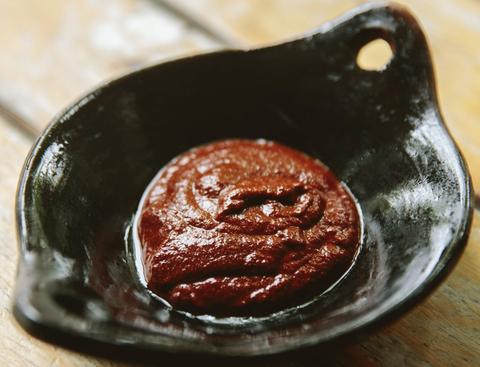 Smooth and Spicy Awaze Paste
Smooth and Spicy Awaze Paste
Every time we eat food at the office, a jar of this is opened. It goes with everything, it tastes like heaven. Made with Tej (honey wine), honey, and our Awaze Chili Blend, it tows the line between smoky and tangy, sweet and spicy, tasty and even more tasty.
INGREDIENTS
1/4 cup Awaze Chili Blend
1 tablespoon Niter Kibbeh (oil optional to make it vegan)
1/4 cup Tej (Honey Wine) 
1/4 cup water
A pinch of salt 
STEPS
Stir ingredients together to form a smooth paste
Adjust the consistency to make it thicker by adding more Awaze or to make it thinner by adding more Tej. Makes about 1/2 cup of Awaze paste
Awaze paste can be incorporated into dishes, or used as desired as a dip or sauce.