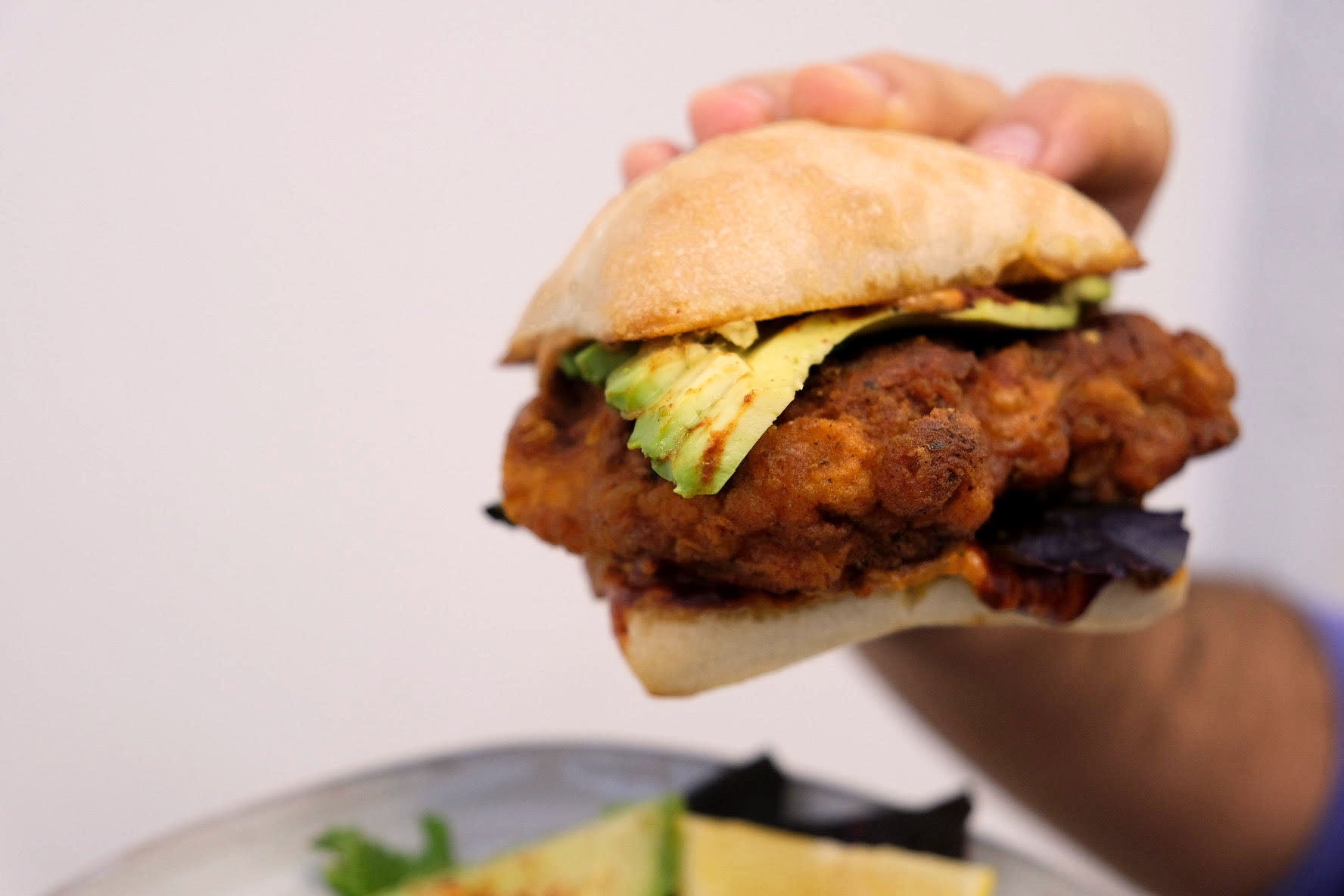 Shiro Fried Chicken
INGREDIENTS
1 lb boneless skinless chicken thighs 
2/3 cup all-purpose flour 
2/3 cup Shiro Mitten
Salt and pepper to taste
1 1/2 tablespoon Awaze Mustard Chili Blend
1 tsp Kibbeh Manteria (optional)
3 eggs, beaten

1/4 cup unflavored oil of your choice plus a few tablespoons of Niter Kibbeh, if you have it, for flavor
For Assembly of a Sandwich!
Mitmita Aioli (you'll have to make this but it's quick and SO good)
Awaze Dipping Sauce 
Spring mix lettuce
Avocado, sliced thin
French Sourdough roll, sliced 
PREPARATION
Spread out and pat dry the chicken thighs. If some of the thighs are thicker than others, pound them out so the thickness is uniform with the other thighs.
STEPS
Place the flour, Shiro, Awaze, Kibbeh Manteria, and salt & pepper in a large wide bowl or a large plate with high lip edges & mix together. In a separate medium bowl, whisk the eggs thoroughly. 
In the meantime, add the oil and Niter Kibbeh to a pan or sauce pan. Heat over high heat. 
PSA: Make sure for this next part you have a designated dry bowl hand & wet bowl hand, otherwise it gets messy!
Coat each chicken thigh in the Shiro mixture, then shake off lightly, dip to coat in the egg mixture, shake off lightly again, and coat again in the flour/shiro mixture. Repeat this process for all of the chicken.
Back to the oil: You can determine if it's hot enough by inserting a wooden spoon or a small piece of the Shiro and seeing if it sizzles. Once it's hot, add in 2-3 of the chicken thighs. Don't overcrowd as it will lower the temperature of the oil and decrease browning.
Cook 4-5 minutes undisturbed each side, allowing for more time if the chicken is not fully cooked. 
Remove from pan, place on a paper towel lined plate and serve immediately.  
Feel free to eat the chicken plain, on top of veggies, ramen, etc. but if you want to make a sandwich, here's how: 

Slice and toast the roll, OR spread some Niter Kibbeh on it and fry it in a pan for extra crispy deliciousness.

Then spread Mitmita Aioli and Awaze Sauce on the open side of the bread, layer with spring mix lettuce, avocado, some more aioli or Awaze if you're feeling it, and the fried chicken! 
Serves: 5-7 | Prep Time: 5 minutes | Cooking Time: 20 minutes