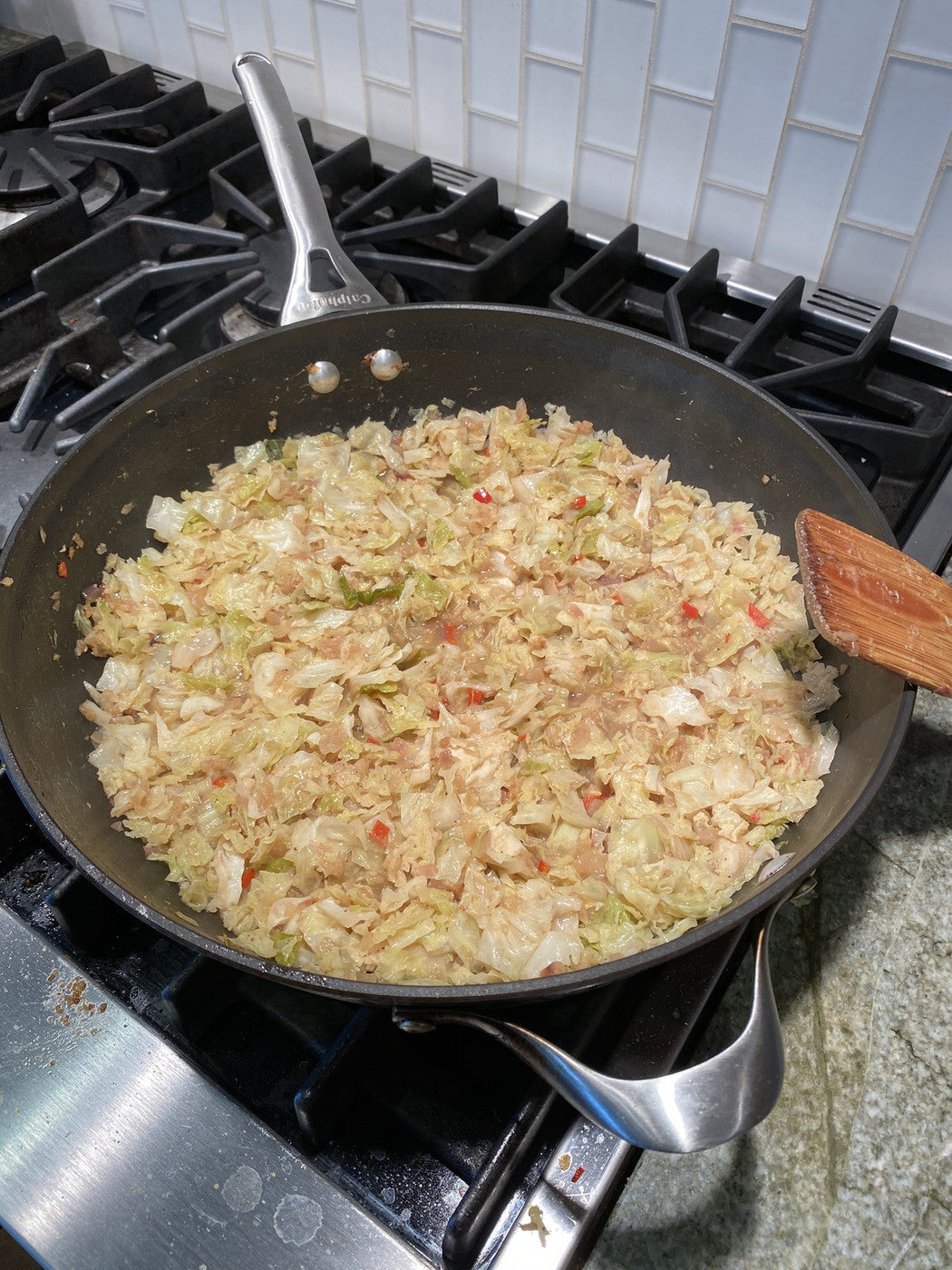 Zafar's Cabbage Gomen
Zafar is a home taught chef whose passion for cooking began with his travels around the world. He ran a small catering business in San Mateo California delivering healthy global cuisine to his clients in the area. In addition, he also was a private chef delivering gourmet multi-course degustation menus (8-12 courses) to clients in the Bay Area. Since 2020 he has started the blog (abowlofsugar.com) featuring global cuisines from over 50 countries and growing. Most of all he derives his pleasure from sharing his passion in the kitchen with friends and family and continuing to travel to experience different cultures through food.
Another wonderful Ethiopian dish. The cabbage can be cooked as much as you would like, from just tender to mushy. This is a perfect side for any meal or with heavily grilled meats.
INGREDIENTS
1/2 teaspoon ground cardamom
1/2 teaspoon ground coriander seeds
1/2 teaspoon Abish, ground
3 tablespoons Niter Kibbeh 
2-3 tablespoons olive oil
2 medium red onions, finely diced
2 tablespoons garlic paste
3 tablespoons ginger paste
1 serrano or Thai chile, finely diced, or to taste
1/2 large cabbage, diced
Lemon juice or white wine vinegar to taste
Salt to taste
1 cup water
STEPS
Melt kibbeh and oil in a large flat pan and add the cardamom, cinnamon, and fenugreek powders.
Cook on medium for 1 minute, do not burn.
Add the onions and cook till well browned, about 10 minutes. Add the chiles, garlic, and ginger paste and cook on medium for 2 minutes till the pastes have fried and release an aroma.
Add the cabbage, water, and salt, and bring to a simmer. Cover and cook for 10+ minutes, depending on how soft you want the cabbage. I like the cabbage to have a bit of bite, though this is not traditional.
Finish with a generous squirt of lemon juice. Mix well and taste for seasonings and salt. Adjust as needed.
Find more of Zafar's delicious creations here!