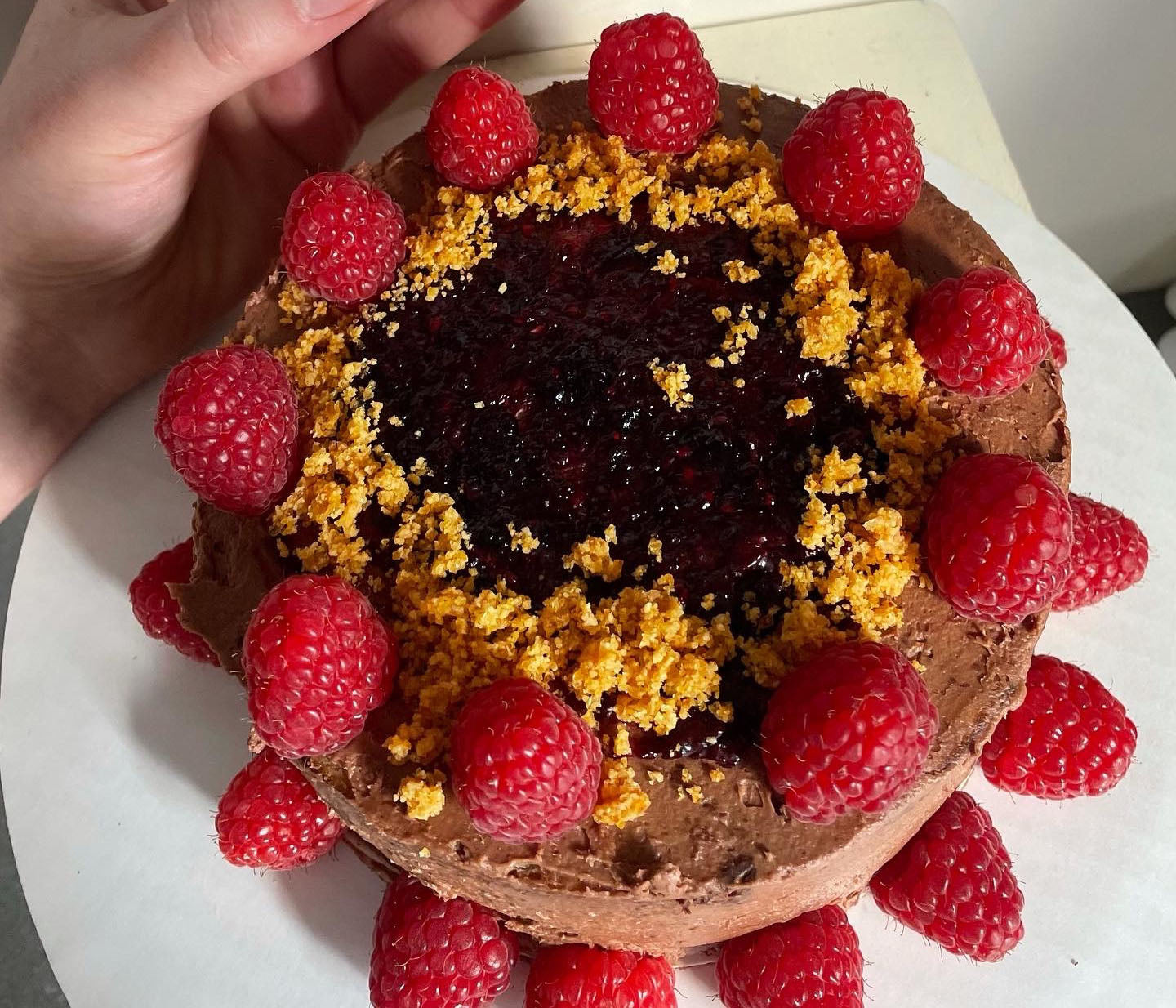 Bethany's Berbere, Blackberry, Brown Butter & Orange Cake
Bethany's Berbere, Blackberry, Brown Butter & Orange Cake
Bethany Dixon is the owner and baker of Pies & Pinups, a one-woman operation based in Ithaca, NY.  Her background is in classic French pastry, but the heart and soul of her patisserie is experimenting with the alchemy of flavors and dreaming up unique combinations inspired by florals, herbs, spices, and citrus. The bakery's name is a nod to her love of vintage style, and the delight that comes from trying to make the everyday a little bit more beautiful. When she's not in the kitchen, you'll find her at her day job sleuthing books in Interlibrary Loan, working on poetry, or at the piano. 
My favorite way to create recipes and flavor pairings is to start with an ingredient that is so beautiful and distinct, it feels like a single phrase of music asking for the rest of the song to join it. Sometimes I'll think about it for days, wandering around my kitchen like a mad scientist, examining extracts and sniffing citrus zests and listening for what other ingredients might be calling out to be a part of the recipe. It can feel like tuning an orchestra, listening for those. Sometimes, as with Brundo's berbere, I'll be so excited to start baking that I'll just write out a sketch of the flavors, cross my fingers, and get to work. This cake has a number of steps, but if you're able to make it slowly over a quiet morning (or a peaceful night, if you're a night owl unlike me) ideally with many cups of delicious coffee by your side – I hope you'll get just as much joy out of the rhythm of the steps as you will out of the first bite of the finished cake. I have never tasted anything like this berbere – the bright heat of it, the floral, almost perfume-y hints, the fruitiness – all the components of the cake are meant to draw out a different characteristic of the berbere. I made it for love, not practicality, so please forgive me in advance.
There are five components:
Brown butter hazelnut cake with blood orange zest
Caramelized peanut berbere crumble
Blackberry blood orange jam (it's a quick jam, don't worry!)
Dark chocolate ganache made with blackberries, more blood orange zest, and a tiny bit of rosewater
Vanilla Italian meringue buttercream (which will be whisked with the ganache to make a chocolate buttercream)
I would recommend starting with the cake, so that it can be cooling while you assemble the other steps, in the order above. You can also make each part ahead of time and store them until you're ready to assemble the cake. My go-to hazelnut brown butter cake recipe is this wonderful one from Barley & Sage – the only thing I tweak is to add the zest of two blood oranges, which I'll explain more in the steps below. 
You will need a food processor and a stand mixer, such as a Kitchenaid, mixer as well as a candy thermometer - but the stand mixer and thermometer is only crucial for the Italian meringue buttercream – if you don't have either, you can absolutely make your favorite buttercream instead. This is the buttercream recipe I swear by, and it is beautifully detailed and explained in a way that makes it far less intimidating than it can seem at first (boiling syrup + egg whites + butter + sugar = total magic).

For the sake of length and everyone's resulting sanity, I'm going to leave you in the capable hands of Barley & Sage and Lindsey Farr for the hazelnut brown butter cake and the buttercream recipes, respectively. If you have any questions about these two parts of the recipe, please feel free to email and ask! That leaves us with the caramelized peanut berbere crumble, the ganache, and the jam.

Make the Cake

You'll want four blood oranges and one lemon on hand for the citrus in all the steps of the recipe. Can you tell it's winter in upstate New York?
Make the hazelnut brown butter cake, with the addition of the zest from two blood oranges rubbed into the sugar before it's combined with the other ingredients. Once the cakes have chilled for at least an hour in the freezer, you can trim the tops so they are even, and carefully cut each layer in half with a sharp serrated knife, for a total of six layers.
Make the caramelized peanut Berbere crumble

Ingredients
½ cup roasted salted peanuts
½ cup granulated sugar
¼ cup water
1 tsp Berbere Blend
Steps
Place ½ cup of roasted salted peanuts on a metal baking sheet (lined with a Silpat if you have one; no problem if not). You want them to be in an even layer, without much space between them.
In a medium saucepan, combine ½ cup granulated sugar with ¼ cup water and at least 1 tsp berbere (more if you're feeling adventurous), and stir to combine.
Cook on medium heat and swirl gently as the sugar dissolves and begins to caramelize, then remove from heat as soon as it reaches the desired color (I aim for a light/medium copper, but taking it off a little too soon is always better than burning it).
Pour the hot caramel over the peanuts and let cool completely. Once cool, pulse in a food processor until it has the texture of coarse sand, and set aside.

Make the blackberry orange jam

Because this is a quick jam and I use it right away rather than storing/canning, I'm unsure of how long it keeps in the fridge beyond a few days time – my advice is, with any extra, find a croissant and go to town!

Ingredients
2 cups of frozen blackberries (processed until crushed in a food processor, to speed the jam)
½ c + 2 Tbs granulated sugar
Zest and juice of 1 blood orange
Juice from 1 lemon
Steps
In a medium saucepan, over medium heat, stir all ingredients together and let cook, stirring gently until the sugar dissolves.
Increase to medium-high and let cook for a further 7-10 minutes, until starting to thicken.
Pour jam onto a metal baking tray and let cool, then cover with plastic wrap and transfer to fridge (or freezer, briefly) to thicken further.
Make the blackberry Berbere ganache

Ingredients
6 oz heavy cream
2 oz frozen blackberries*, pureed in a food processor
10 oz dark chocolate chips or finely chopped chocolate (luckily, most chocolate chips sold in stores are sold in 10oz packages – I like extra dark or at least dark for this recipe. The nicer the chocolate, the nicer the ganache.)
2-3 tsp of Berbere Blend, depending on how spicy you'd like it!
½ tsp rosewater
Zest from one blood orange
*The easiest way to measure this is to pour the heavy cream into a liquid measuring cup up to 6 oz, then slowly add the blackberry puree until it reaches 8oz total.

Steps
In a large metal bowl, combine chocolate, rosewater, orange zest, and berbere.
In a medium saucepan, over high heat, heat cream/blackberry mixture just until it boils – it will foam up very quickly, so watch it constantly.
Pour over chocolate etc., and immediately cover with plastic wrap for about three minutes (to create steam, and help the chocolate melt fully).
Whisk cream and chocolate together until completely smooth (other than the bits of blackberry which will make it slightly textured). If chocolate has not melted fully, heat water to boiling in another saucepan, then set the mixing bowl on top while whisking gently until it's melted further, but keep an eye out so it doesn't scorch.
Keep ganache at room temp until ready to use – you want it to be a little firm, but still soft, because you'll be mixing it with the buttercream as well as spreading it on the cake. Store any extra in the fridge.

Are you asleep yet? Don't give up hope – this is the last step before assembly!

Make the Italian meringue buttercream
I promise you can do it, and you will feel so triumphant after conquering fears of boiling sugar syrup (or make your favorite buttercream; one that isn't too sweet works really well here). Once you've made the buttercream, keep it right in the mixing bowl at room temperature until after you've assembled the cake.
Take about half of the buttercream made by the recipe above, and wrap in plastic wrap to store in the fridge or freezer. Keep the other half in the mixing bowl, and add at least ¼ cup of the chocolate ganache. With the whisk attachment, mix until fluffy and well-combined.
If the ganache seems too firm to mix easily, you can microwave a small portion of it wrapped in plastic wrap for about 10 seconds until it's closer to melted – it should incorporate easily then.
First, dance around your kitchen and rejoice – we're at the assembly stage! Second, assemble the cake.
Assemble the cake
Ingredients/Equipment
All five components – cake layers, buttercream, ganache, jam, peanut crumble.
Edible fresh flowers or fresh blackberries/raspberries for decorating
6" cardboard cake circle (this makes it much easier to transfer to a clean plate/cake stand after decorating), but you can improvise with some parchment paper underneath – anything that will help you transfer more easily.
Cake decorating stand or an upside-down metal baking tray
Metal offset spatula if you've got one; don't worry if not – you can do this with a spatula and a table knife and it will be rustically beautiful!
A rubber or plastic cake scraper/smoother (again, don't worry if you don't have one)
Icing bag and decorating tip of choice, if wanted

Steps
If using a cardboard cake circle, place this on the upside-down baking tray. Spread a small amount of buttercream or ganache on the center of the circle to keep the cake anchored while decorating.
If you're just decorating the cake on the baking tray without a base, or just parchment paper, you may still want to anchor it with a bit of buttercream/ganache. You'll just need a spatula thin enough to cleanly slide the cake off the tray.
Place the first cake layer on the circle/tray. Spread to the edges but not beyond with a thin layer of ganache, a thicker layer of buttercream, a thin layer of jam, and finish with an even sprinkling of the peanut crumble. Repeat for the next four layers, but for the sixth and final cake layer, use only buttercream for the top. Place the whole cake in the freezer for about 10-15 minutes.
Next, spread buttercream generously on the top and sides of the cake, using the offset spatula and cake smoother if available to evenly distribute the buttercream and to smooth the sides/get rid of the extra. If you are just using a regular spatula and a table knife, it won't look quite as even, but you can make a beautiful soft scalloped pattern just by swirling/pressing the buttercream with the knife. No one in their right mind will be mad at a cake that doesn't look perfect.
If the buttercream is picking up lots of crumbs and looking messy as you go, you can always freeze the cake for another ten minutes, then finish with another layer – this initial layer is often called the crumb coat for that exact reason.
Finally, transfer to the final serving plate and decorate to your heart's content – when available, I love fresh fruit and edible flowers best – raspberries on the sides and in a ring on top, a circle of the jam, a scattering of the peanut crumble; fresh pansies or nasturtiums if you have them (I have a heap of snow instead).
Take a very well-deserved bite which will hopefully spur a whole world of wondering at the flavors, and erase any regret at having trekked through this novel of a recipe. Thank you so much if you have done – and thank you to Brundo for their exquisite berbere and for inviting me to share this recipe.
See more of Bethany's beautiful creations here!