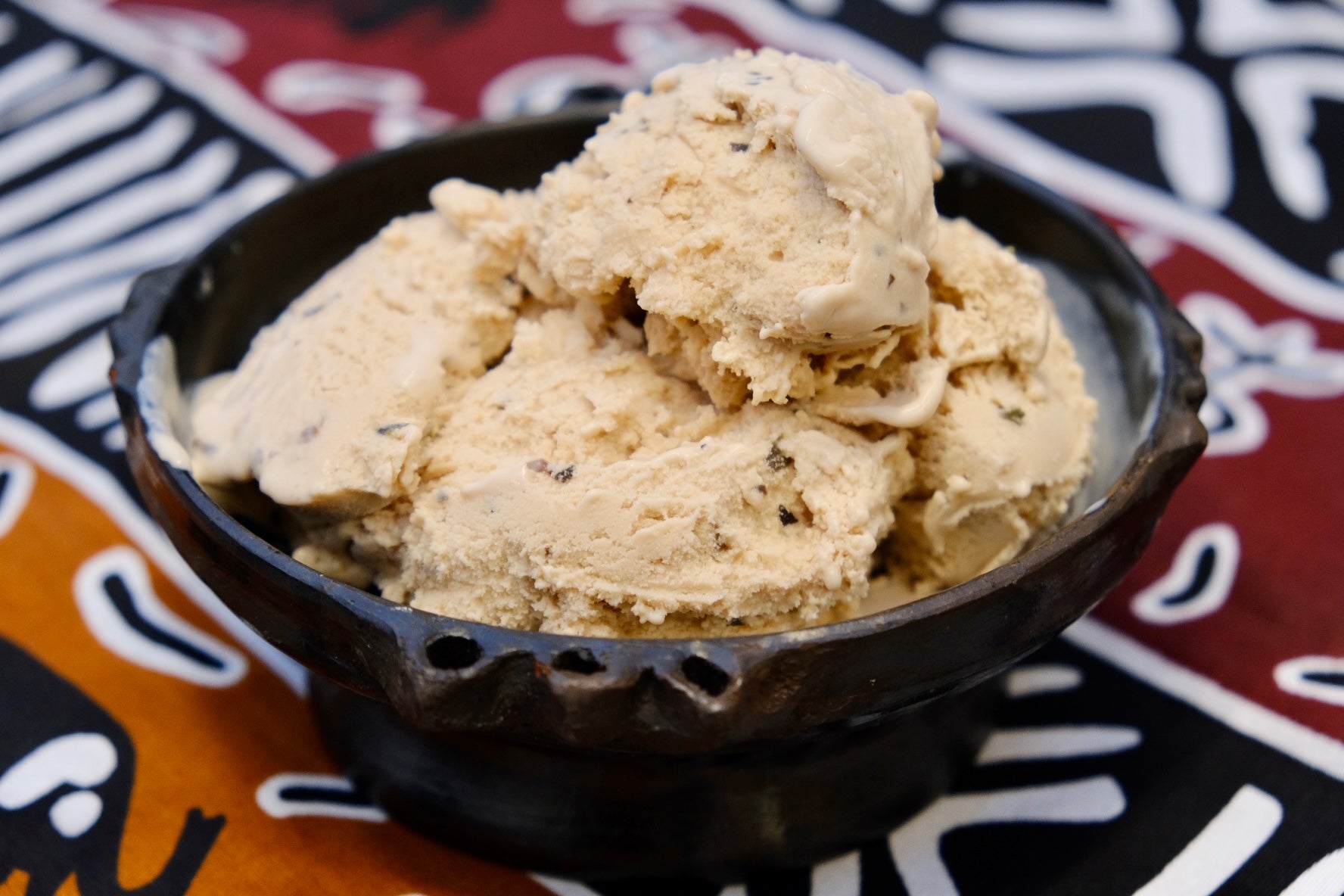 Kuti Ice Cream
In recent years, we've loved seeing the emergence of tea flavored ice creams: matcha, earl grey, Thai tea...So we decided to throw our hat in the ring, and make our very own flavor of ice cream using Kuti, a tea popular in Ethiopia made from the leaves of the coffee plant. Kuti has a smooth, vegetal, slightly bitter taste (it can be a bit of an acquired taste, so approach this recipe with an open mind!), so we brighten the flavors with a hint of cinnamon. Eat it plain to get the full Kuti experience or sprinkle with chocolate chips, honey, or cinnamon sugar for a decadent dessert!
INGREDIENTS
You'll need an ice cream maker for this recipe! 
5 egg yolks (save the egg whites for a mid-ice-cream-creation snack)
1/2 cup sugar
2 cups whole milk
2 tsp vanilla extract
30 g Kuti Coffee Tea Leaves (out of stock currently, sorry y'all!)
4 cinnamon sticks
1 1/4 cup heavy cream
STEPS
Place the bowl of your ice cream maker in the freezer overnight or until it is completely frozen (if you shake it you shouldn't be able to hear anything)
In a medium bowl, whisk together the egg yolks and sugar until thoroughly combined. 
In a saucepan, heat the milk and vanilla over low to medium heat until it begins to simmer. 
Slowly pour the hot milk and vanilla mixture - bit by bit - into the egg & sugar mixture. Make sure you are constantly whisking so the mix doesn't get chunky.
Then return to the sauce pan and cook on very low heat

 

- stir constantly and slowly.
Once thickened, remove from heat & add the Kuti leaves and cinnamon sticks. Mix thoroughly, cover, and let steep for 25 minutes.
Add the heavy cream, then fish out the cinnamon sticks & strain the cream. Place the strained cream and the cinnamon sticks in a covered bowl or Tupperware and chill overnight.
After a good 15-24 hours of chillin, add the cream to your frozen ice cream maker and turn it on. It's best to do this part quickly because as soon as you take the bowl

 

out of

 

the freezer it will start un-freezing. 
Churn until it is nice and thick, 20-25 minutes, (about the consistency of soft serve), then place back in a bowl/Tupperware, and put in the freezer for a few more hours before enjoying! 
Serves: 10 | Cooking time: 50 minutes + 1 day of waiting for things to chill