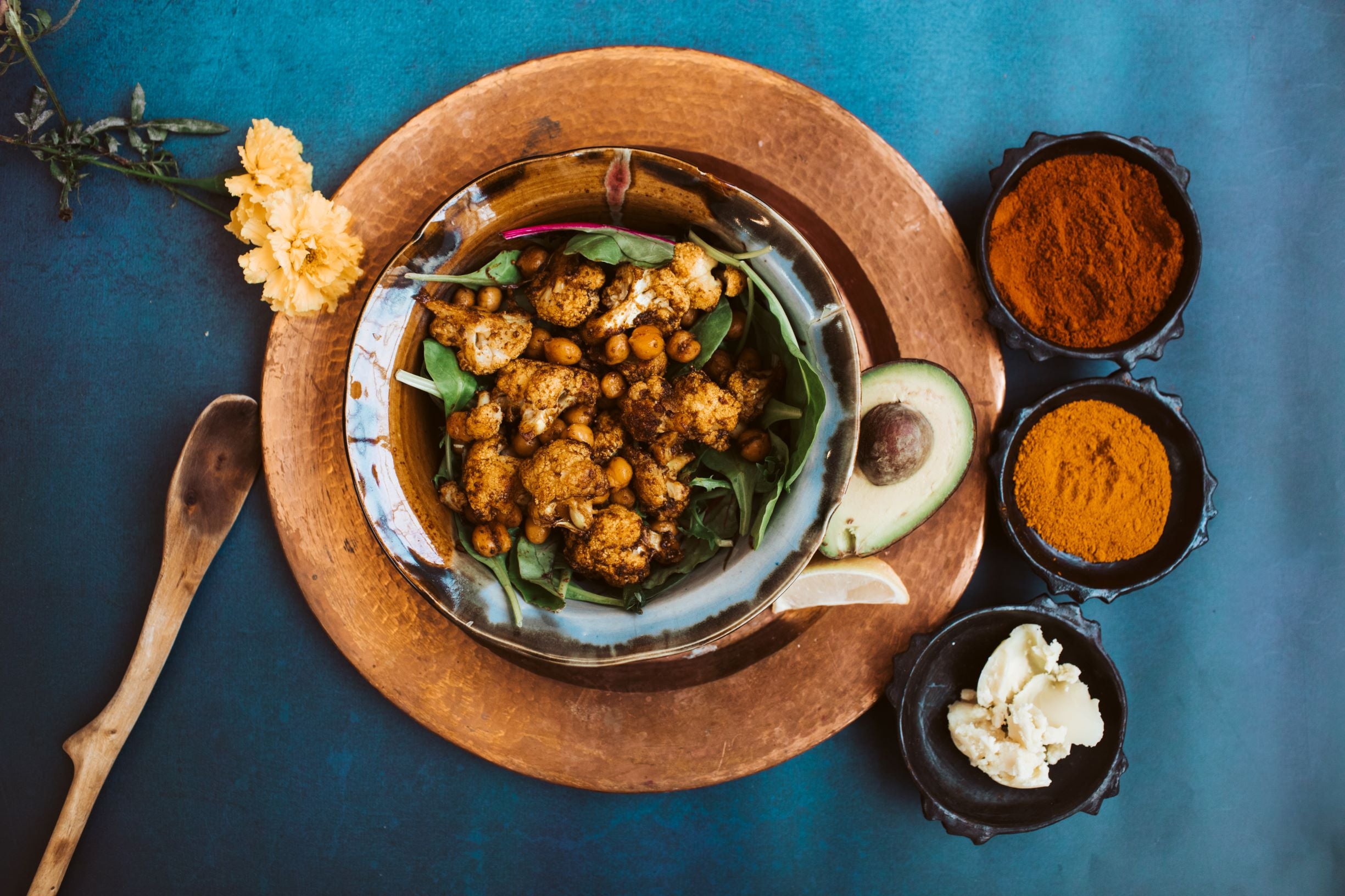 Roasted Cauliflower and Chickpeas in Ethiopian Spices
Roasted Cauliflower and Chickpeas in Ethiopian Spices
Cauliflower is a perfect blank canvas vegetable; It's nutty, round, subtle flavor means it will never overshadow what you add to it. Instead, the addition of all of our spices allows for each one of them to shine in a beautiful way. Then you have the chickpeas, which add in textural variety and a wonderful crispiness to the dish. And be warned, you WILL end up drinking the excess oils from the pan, and I just wanted to tell you to not judge yourself too hard for it, because odds are I'm doing the same thing at home in my kitchen.


INGREDIENTS
1 head of cauliflower
1 can of chickpeas
3-4 tablespoons Olive Oil
2 tablespoons
Berbere
1 tablespoon
Ird
1 tablespoon
Afrenje
2 teaspoons Senafitch (Ethiopian Mustard Seed), or brown mustard seed
1 teaspoon
Mekelesha
3 tablespoons
Niter Kibbeh
Sea salt to taste
PREPARATION
Rinse and drain the chickpeas thoroughly. Use a paper or dish towel to pat them dry. Too much remaining liquid will stop the chickpeas from getting crispy. Cut the head of cauliflower into bite-sized florets. 
STEPS
Preheat oven to 400°F
In a medium-sized bowl, toss the cauliflower and chickpeas with oil, adding in spices until the florets and chickpeas are thoroughly coated 
Spread the contents of the bowl evenly onto a baking sheet, and place small scoops of Niter Kibbeh on top of the cauliflower and chickpeas until you have used all of the 3 tablespoons. 
Transfer the baking sheet to your preheated oven and roast for 30 minutes, or until crispy. 
Add salt to taste and enjoy!
Serves: 2-3 | Prep Time: 15 minutes | Cooking Time: 30 minutes