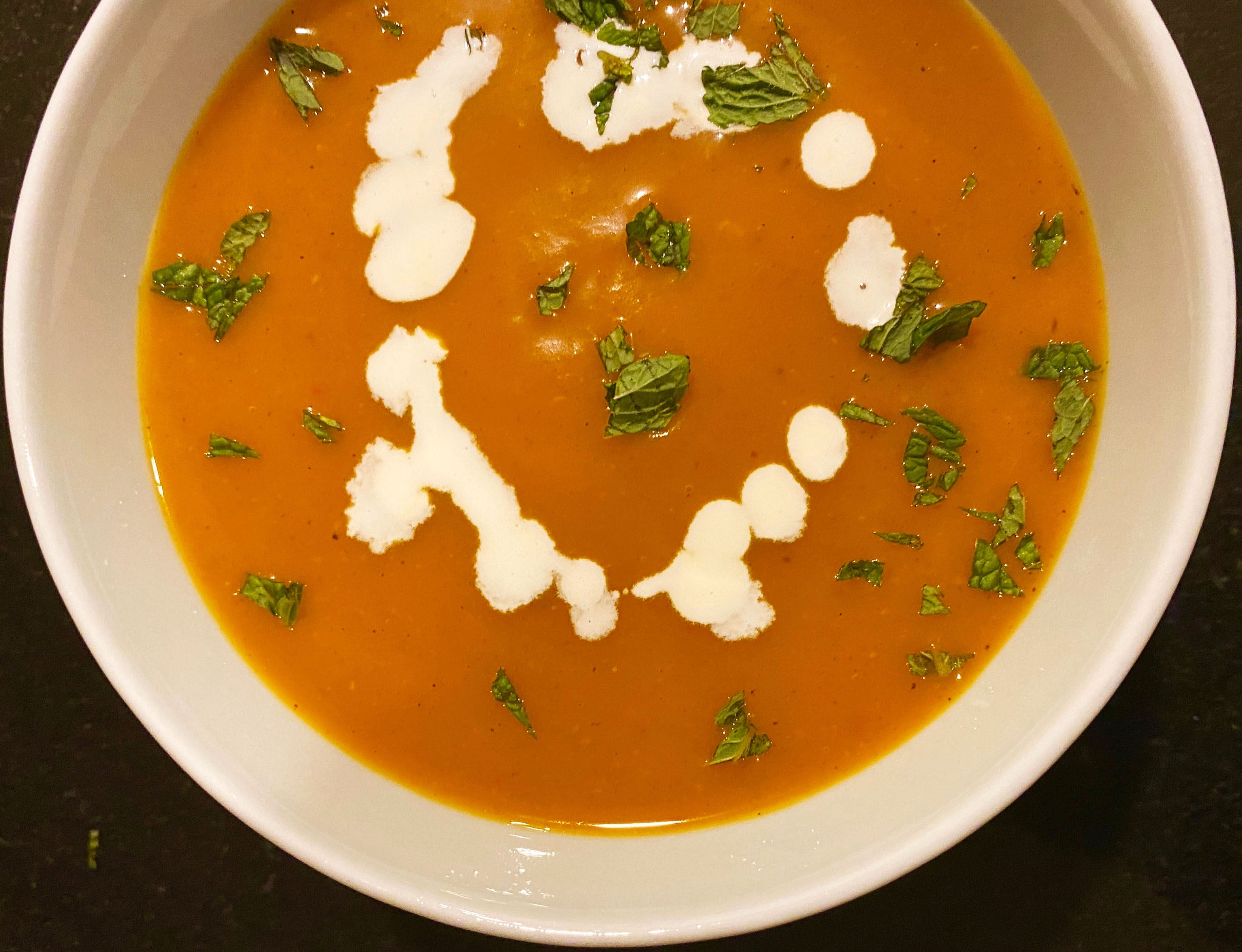 Zafar's Ethiopian spiced pumpkin soup (D'ba zigni)
Zafar's Ethiopian spiced pumpkin soup (D'ba zigni)
Zafar is a home taught chef whose passion for cooking began with his travels around the world. He ran a small catering business in San Mateo California delivering healthy global cuisine to his clients in the area. In addition, he also was a private chef delivering gourmet multi-course degustation menus (8-12 courses) to clients in the Bay Area. Since 2020 he has started the blog (abowlofsugar.com) featuring global cuisines from over 50 countries and growing. Most of all he derives his pleasure from sharing his passion in the kitchen with friends and family and continuing to travel to experience different cultures through food.
There are over 800 varieties of pumpkins on this planet, and quite a few of them native to Africa. Some African cultures or tribes have even elevated this plant to a "god-like" status, they grow it and use every aspect of the plant. We enjoy it in soups or in stews most commonly, but in Africa, they eat the leaves, use the thick stems and vines to make ropes, use the hard-shelled gourds for water bottles, musical instruments, containers of various kinds, and of course, the pumpkin flesh, skins, seeds and flowers are all enjoyed more dishes and ways than can be described. Most importantly, the WHO has declared it a nutritionally important crop for Africa due to the high levels of vitamins, minerals and fibre.
Berbere spice mix is also native to Northern Africa, found in variations across the region. It is used in so many ways, as a rub on meats for grilling, as a seasoning in slow-braised meats and vegetables, as a condiment with stir-fried vegetables or eggs. It is most commonly thought to have originated in Ethiopia and Eritrea, but very similar versions are seen in Morocco, Somalia, and some other neighboring countries. 
I do love pumpkin soups during the winter months, they are always soothing, rich, and delicious. This is one of those soups. A smooth soup that is a gorgeous orange color and bursts with the pop of spice. The sweet pumpkin is complemented beautifully by the bold Berbere spice adding heat and flavors that pop and persist. I topped the soup with a touch of yogurt, as recommended by the chef, and a sprinkling of toasted pumpkin seeds (with or without Berbere spice) for texture. This is a soup that will open your guests' palates and bring the dinner alive, I loved the soup and its rich and wonderful flavors.
INGREDIENTS
3 tablespoons oil
1 large onion, finely chopped
1 1/2 tablespoon ginger paste
1 1/2 tablespoon Berbere spice powder
1 1/2 lb pumpkin, peeled and cubed
3 tablespoons tomato paste
Salt, to taste
5 cups water or chicken or vegetable stock
Whipped yogurt, to garnish
Cilantro, minced, to garnish
Roasted pumpkin seeds (see note below for seasoning instructions)
STEPS
To make the soup, heat the oil in a large pot, big enough for all the ingredients, and sauté the onions till lightly golden, about 3-4 minutes. Add the ginger and cook for an additional minute till the ginger is aromatic and no longer smells raw. Add the Berbere spice powder and give a quick stir. Add the pumpkins, tomato paste and salt and sauté for 3-4 minutes till the pumpkins are coated with the spices.
Add the water/stock and bring to a boil. Simmer for 30 minutes. The pumpkins should be very soft and you should be able to mush them easily with a fork or spatula. For a smooth soup, purée the soup with a hand blender till smooth. For a chunkier soup with a bit more texture, take out 1 ladle of the pumpkin pieces and purée the soup. Add the pumpkin pieces back to the soup. I personally prefer a smooth soup, but you are welcome to enjoy it as you want.
Taste the soup for salt and spices. Adjust for salt and spice. If you want the soup to be spicer, add some more Berbere spice powder, 1/2 teaspoon at a time, and simmer for an additional 10 minutes to incorporate the flavors into the soup.
Serve hot garnished with a tablespoon of yogurt, minced cilantro and toasted pumpkin seeds.
Note: I occasionally also toss 1/4 cup pumpkin seeds in 1 teaspoon olive oil and add 1/2 teaspoon Berbere spice mix and toss to coat evenly. Use to top the soup.
Find more of Zafar's delicious creations here!