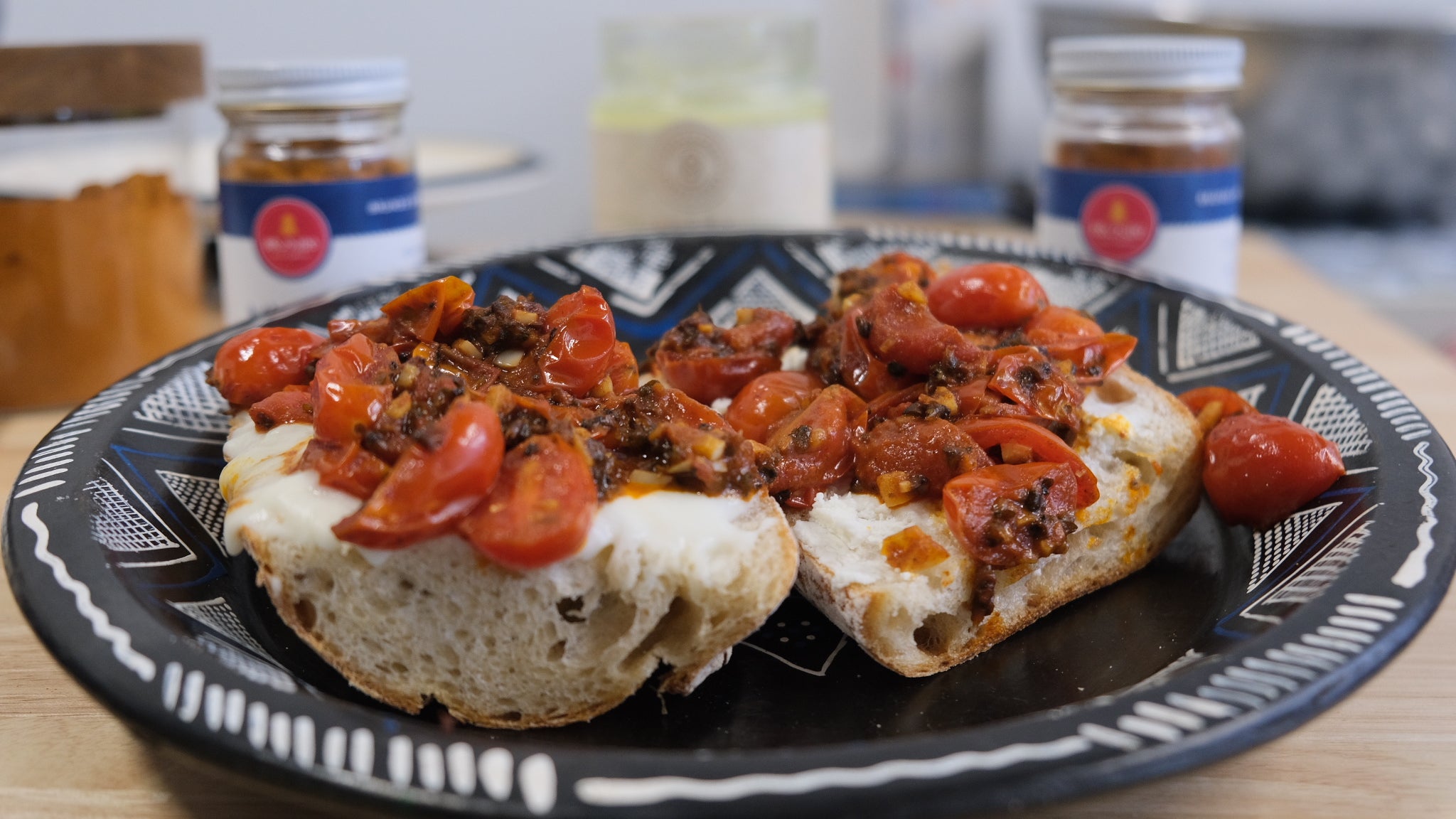 Ethiopian Tomato Dip (& soft cheese over toast)
Ethiopian Tomato Dip (& soft cheese over toast)
We've been on a real bread-related-recipes streak - why not keep it rolling? Loosely inspired by bruschetta, this dip combines tomatoes, garlic, & Ethiopian Bessobela (sacred basil), and then turns up the heat, in spiciness and in temperature! Makes an easy and irresistible midday snack, appetizer for any dinner party, or part of a picnic with friends!
INGREDIENTS
16 oz grape or cherry tomatoes, sliced lengthwise 
4-5 tablespoons Niter Kibbeh, divided (3 & 2)
4 cloves garlic, minced
1 tablespoon Berbere, plus more to taste
3 tablespoons Bessobela
Sprinkle of Mitmita (optional) 
Salt to taste 
Soft cheese of your choosing! (We recommend goat cheese to bring out the Berbere and the tanginess of the tomatoes OR burrata to really give the buttery-ness of the Kibbeh a boost)
1 baguette, cut into open-faced serving pieces 
PREPARATION 
Slice the tomatoes and mince the garlic. 
STEPS
 In a medium saucepan, melt 2-3 tablespoons of the Niter Kibbeh on high heat. When hot, add in the tomatoes, stir to coat in Kibbeh, reduce heat to medium-low and cover for 3-5 minutes. Check periodically to make sure the tomatoes aren't burning. 
Remove the lid and add in the Bessobela. Stir occasionally until the tomatoes are soft and the skins are separating. 
Next, add in the garlic and Berbere. Mix thoroughly and let simmer until fragrant, about 1-2 minutes. 
If your tomato mixture is sticking to the bottom of the pan, add in 2 more tablespoons of Kibbeh (you're also welcome to leave it out), as well as salt to taste and a dash of Mitmita if you want to spice it up!
Cover the pot and remove from heat - allow to sit for a few minutes to let the flavors really sink in. 
Toast the bread, spread with the soft cheese of your choosing (again goat & burrata are primo choices), top with the compote, and enjoy!
Serves: 10 | Prep time: 5 minutes | Cooking time: 10 minutes