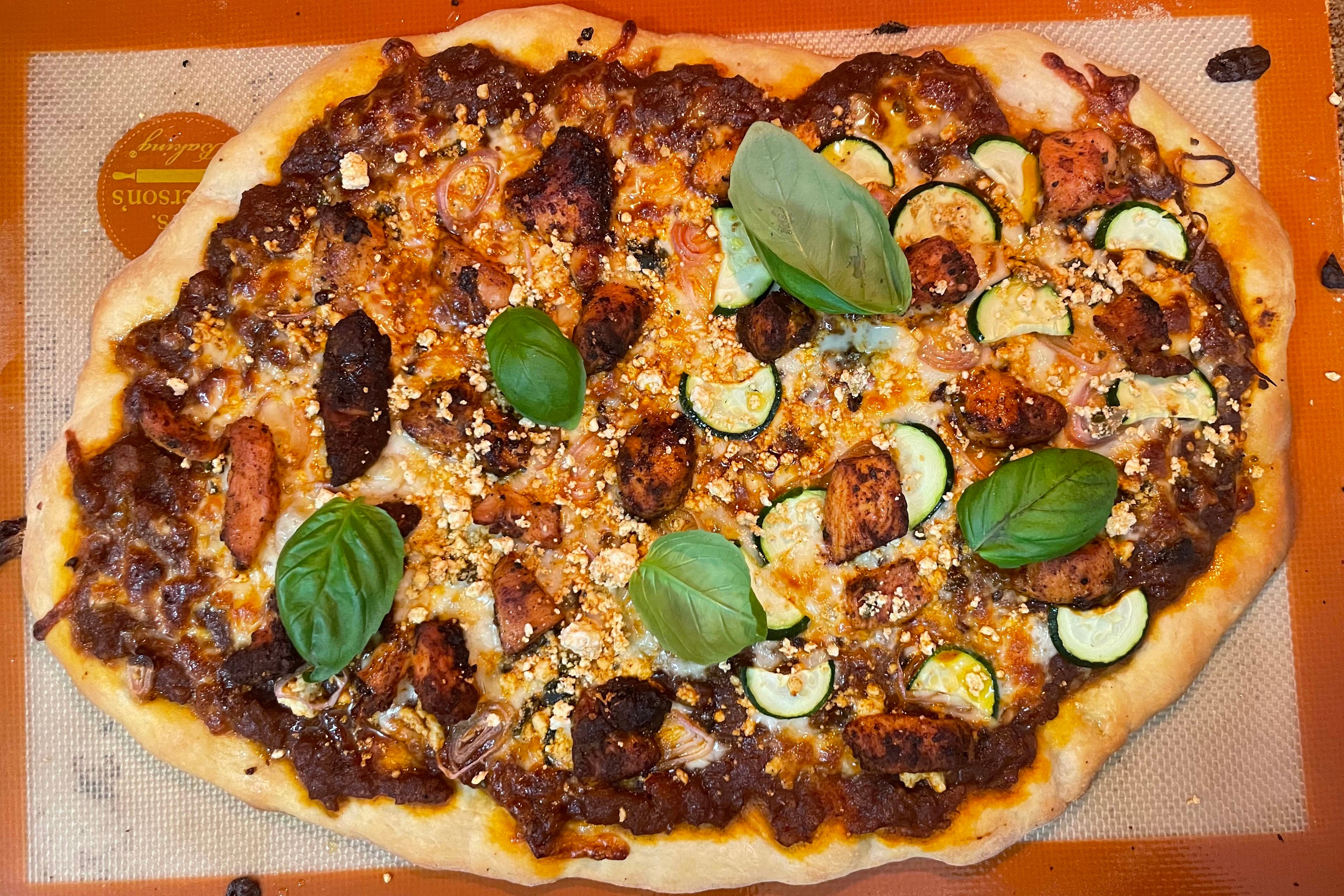 Doro Wot Pizza
While it may seem like there are a lot of moving parts to this recipe, it's quite simple! The lovechild of doro wot, doro tibs, and a traditional pizza, this recipe combines the simplicity of easy pizza making with the delightfully rich flavors of Ethiopian cooking. We loved getting creative with this recipe, and encourage you to do the same! Make it vegetarian, add more veggies, make the pizza dough yourself - whatever you do it'll be delicious.
INGREDIENTS
For the Kulet 
3-4 tablespoons Berbere Blend
1 tablespoon Mitmita Blend (optional, for extra spiciness)
1 teaspoon Makulaya Specialty Blend
Two large shallots, finely minced 
1 tablespoon olive oil
2 Roma tomatoes, chopped
1 cup low sodium chicken or vegetable broth
1/4 cup dry white wine
3 basil leaves, chiffonade cut
For the Chicken
1 boneless skinless chicken breast, cut into small bite-sized pieces
1 tablespoon Berbere Blend
1 tablespoon olive oil 
For assembly of the Pizza!
Pizza dough, store-bought or homemade 
3/4 cup grated Mozzarella 
1/2 cup Ayeb, plus more for garnish
1 tablespoon Bessobela (optional)
1/2 zucchini, thinly sliced 
Fresh basil leaves, for garnish
1 tablespoon Niter Kibbeh, melted
Red onion, thinly sliced 
PREPARATION
In a small bowl, combine the cut chicken breast with Berbere & Kibbeh Manteria, cover, and refrigerate for at least an hour. I ended up leaving mine for about 24 hours on account of being lazy, which made the chicken exceptionally delicious. 
Chop/slice/mince/grate everything that needs to be chopped/sliced/minced/grated!
STEPS
The first step is making the Kulet! Heat the oil in a saucepan, add the shallots, and cook on medium heat until the shallots are translucent, stirring frequently. 
Add in the tomatoes, stirring for one minute to allow their juices to release, then pour in the Berbere, Mitmita, and Makulaya. Stir for 2 minutes or until fragrant, thoroughly coating the shallots and tomatoes. 
Pour in the chicken broth and white wine, scrape up any bits stuck to the bottom or sides of the saucepan, and mix thoroughly. Bring the sauce to a boil, add the basil, then let simmer at medium-low heat for about 20 minutes uncovered, stirring occasionally. 
Once the sauce has thickened to a stew-like consistency - think thick wot, or marinara sauce -, remove from heat & set aside. 
In a frying pan, heat 1 tablespoon of olive oil. When hot, add in the chicken pieces and saute until browned and crispy on the outside and just cooked through, about 5 minutes. Remove from heat and set aside. (You can also put the chicken on skewers in the oven at 425 F if you want to avoid the extra oil!) 
Preheat the oven to 425 F
Now time to assemble the pizza: roll out your pizza dough to the desired size and thickness, spread on the Kulet, then sprinkle on the bessobela, Mozzarella, and Ayeb. Evenly distribute the chicken pieces, red onion slices, and zucchini. Brush the crust with melted Niter Kibbeh, and bake for 15-20 minutes. 
Let the pizza sit for a few minutes before digging in - garnish with basil leaves, a sprinkle of ayeb, the rest of the melty Niter Kibbeh, and red onion slices. Enjoy!
Serves: 4-5 | Prep Time: 20 minutes (+ 1 hr for marinating) | Cooking Time: 20 minutes